Getting to San Sebastián
By Air – San Sebastian Airport 
Located next to the town of Hondarribia, the small airport of San Sebastian caters to national flights and smaller planes. To get to San Sebastian from the airport head to the bus stop right outside the terminal and look for the red buses. A single journey costs EUR 1.65, transit takes around 30 minutes. If you're in a hurry, you can get a taxi, which can be found right outside the terminal. The taxi fare costs about EUR 40.
By Air – Bilbao Airport
If you're flying into Bilbao Airport, a bus is available to go to San Sebastián. Pesa Buses leave from just outside the Arrivals Terminal. A ticket to San Sebastián costs EUR 16.85 and the journey takes just over an hour. The bus also stops in the town of Zarautz before arriving in San Sebastian. Buses depart every hour, book online ahead of time to be sure of schedule. Taxi's are also available with one-way fares costing about EUR 160.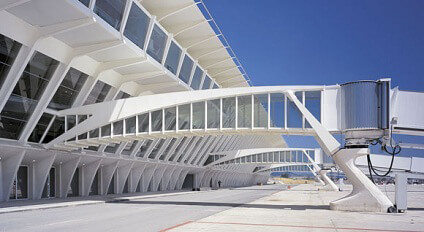 Getting around San Sebastián
By Bus
San Sebastián's bus system is efficient and popular, locals who use it as their main way of getting around the city. Tickets are available for purchase on the bus. A single costs EUR 1.65, make sure you have the right change or smaller bills to pay for tickets. If you're staying longer, you can purchase a San Sebastián Card which includes bus travel and discounts on museum tickets. You can pick one up at the tourist office on Boulevard Avenue.
By Taxi
San Sebastian has a modern fleet of taxis with service 24 hours a day. Taxi rates are official and drivers operate with a taxi meter. Unlike in other cities, taxis do not usually stop when hailed on the street. Instead head to a signed taxi stop or call for a taxi pick up.
By Bicycle
San Sebastian has over 30 km of bicycle paths. With views of the sea and the lush green mountains, a bike is a great way to explore the city center. Outside of the city center expect more hills, follow the red bike paths or "bidegorris" to get around in the city. Bicycles are available for rent, inquire at the tourism office.
Learn more about San Sebastian and his places of interest.
0